For many years, I wished I could upgrade laptop processor from i3 to higher version like i5 or i7.
I had always thought laptop cpu upgrade is impossible. After all, every laptop service center told me the same.
In this post, I'll show you how I performed a laptop processor upgrade and replaced my legacy Intel i3-2330M processor with i7-2640M (turbo) on my personal laptop.(Samsung NP300E5Z). I only have basic understanding on circuits.
I bought my first laptop in 2011 with my own hard earned money!. Samsung NP300E5Z-S01IN. 😀 It was a pretty good, above average, 'value for money' deal at that time.
Almost close to a decade now, I've upgraded my laptop in every possible way so that it can perform at par with today's standards: 👍
☠️ Be Diligent ☠️
WARNING:- It is common sense that you don't attempt to upgrade laptop CPU if it is still under warranty or you have no clue about circuits, motherboard and other jargon.
Consequently, I take no responsibility if you brick your device! – Do this at your own risk.
Below are the steps to replace a laptop processor (i3 to i7):

➤ End result was satisfying!. Checkout the final result of this cpu upgrade
Here's a summary of all the upgrades so far to my Samsung NP300E5Z
Currency: ₹ Indian Rupees (INR)
Component
Company Defaults
(Samsung NP300E5Z)
Upgrade
(I manually replaced)
Purpose of upgrade
Cost of upgrade
(in INR)
RAM
4 GB (ADATA)
+4GB = 8GB
Faster processing
₹ 1,200
Hard Disk
Hitachi – 1TB – HDD
Samsung 750 EVO SSD -120 GB for OS
Crucial MX500 – 500 GB for storage
Faster File operations (Open, Read, Write, Move etc.)
₹ 3,000
+
₹ 5,000
CD/DVD slot
Optical disk tray
Replaced it with default Hitachi 1TB😊
Secondary to primary Storage
₹ 300
Thermal Gel
Default
Thermal Grease
Processor cooling, Less power consumption
₹ 150
Processor
Intel i3- 2330M
2.2GHz, Dual core, 4 Threads
Intel i7-2640M
2.8GHz – 3.5GHz Turbo,
Dual Core, 8 Threads
Overall performance boost
₹ 3,800
Total
₹ 13,450
It is a considerable investment for a guy from working middle class! However, for a price of almost ₹13.5K, (roughly about 200 USD), I've got myself a laptop that can easily beat a new one with triple price tag. Therefore this effort was totally worth it..!👍
Regarding SSD, I have a post that you can check this post to see how to choose best SSD for home user. .
On the other hand, the last row of the table – 'Processor Upgrade" – I thought could never be done for my Samsung NP500E5Z.
On top of that, not just the local service centers but the so called "authorized" service centers of these multi-billion dollar companies told me out-right that it's not possible to replace a laptop's processor…ever!
Firstly, with an obsessive wish to upgrade laptop processor, hours of research and bit of a luck (which favors the one who works for it), I was able to do so.
Secondly, the results? – Are very satisfying. ❤
So, how to upgrade a laptop processor? Although, this post illustrates processor replacement of my particular model of laptop, (Samsung NP300E5Z), it is not limited to this model.
Any laptop and hence, any brand can be upgraded- provided you do your due-diligence. 👈
Step 1: Check if your CPU can be upgraded
Before you do a laptop cpu upgrade, you can either go to your computer >> This PC >> right click >> Select properties and view processor details there.
(OR)
Use a tool like 'CPU-Z' to see your processor type.
I recommend latter because there is much more you can know about your motherboard, processor etc. CPU-Z is of great help.
NOTE:– If your processor is a mobile processor i.e., of type M or QM, then you can surely perform laptop processor upgrade. According to my limited knowledge, if your laptop processor is of type U, then you can't replace it. Sorry!! – OR, may be you can but I don't know! Sorry!!
Step 2: Check the motherboard socket type to replace laptop processor.
Mine is Socket G2 / rPGA988B and processor is Sandy Bridge architecture. Which means, the replacement processor should be a processor compatible with this particular socket and micro-architecture.
Step 3: You need to get technical. Find a compatible processor to upgrade.
There are plenty of resources online. They even show probability indicators of success rate of replacement. I used this one:- cpu-upgrade.com/i3_mobile.
Though there are plenty of tempting QM (quad cores) , I wanted to go with same wattage (power) and wanted to be on safer side.
There is also websites that'll give you an approximation of comparative performance. Like this one – Versus.com/i32330mvsi72640m
Comparative Advantage:
Tip:- It is best to replace a processor of certain wattage with same wattage processor. The L1, L2, L3 cache can differ and it is good if high.
For Example:– Intel core i3- 2320M requires 35W power socket. Hence, I chose i7-2640M which also requires 35W power socket.
Step 4: Just do it. This is how I upgraded my laptop processor
Dismantle your laptop, find the processor and replace it. There are plenty of YouTube videos which show how to dismantle a laptop correctly. Find your model.
You will require a tool set with mini/micro screw-drivers.
Don't forget to apply thermal gel/paste.
Remember: You'll have to install a new Graphics driver – for integrated Intel Graphics on your processor. It's easy to search and find on intel's website. Or, use their auto-update feature. I used that.
Here's the Satisfying part after replacement. I've used Novabench to run tests.
Performance comparision of my laptop processor upgrade [Samsung NP300 E5Z]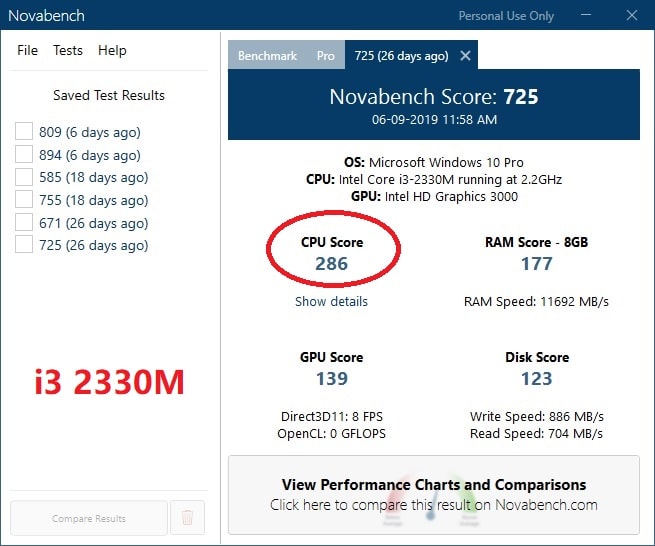 Yep. An increase of 38% – in benchmark score. You can also see there is an increase in RAM and Disk scores too. I wonder how? Well, isn't it obvious? 😀
What about the real application test?
Honestly, it is not a super mind-blowing upgrade. Though the difference of this laptop CPU upgrade is definitely visible, it is not a super big leap either.
I feel I should have gone for a Quad core processor but I that was more riskier and I didn't want to risk money and laptop! So, considering that, I am overall happy! 😀
Before and after of laptop processor upgrade (in my day to day activities)
On my Windows 10, boot up time, i.e., from windows logo to till I see login screen, it used to take 8 seconds before. Now it is 5 seconds!
The laptop fan doesn't make the loud sound of cooling. It is very rare now and used to be more often before.
Applications like MS words, MS Excel etc open slightly faster.
Games like Counter-Strike GO and MK4 11 – Komplete edition etc feel more responsive and fluid.
Battery lasts at least 15 mins longer. (without battery saver).
Multi-tasking, multiple desktops are much more smoother
File transfers are a bit faster.
So, overall, it was totally worth it!! 👻
Have you ever considered changing your laptop's processor? – tell me about it in comments section.
Cheers,
🍻