Last Updated on September 2, 2021 by Shivanandana Hegde
Choosing the best SSD for home usage is such a confusing task!. With marginal difference in cost, there are so many options available in market.
This guide will help you to pick one without any 'post purchase guilt'. 🙂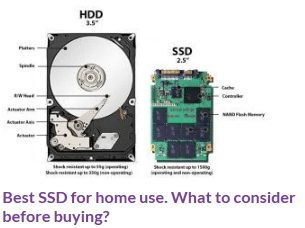 Firstly, replacing your laptop's HDD with SSD makes a huge difference in laptop's performance and power consumption.
If you know the basics already, you can directly jump to: –
Why replace existing HDD with SSD?
Why replace a large capacity HDD of your laptop to a smaller capacity, expensive disk? If 10 reasons are enough for you, read this article to know why you should get an SSD.
Choosing best SSD for home user in terms of Storage:
SSD is a relatively new technology in the market. Although the first SSD (of just 20MB) was developed as early as 1991, the commercial sales of SSD started only after 1998.
So, in terms of memory, you'll mostly end up buying something less than half of your existing HDD (unless you can afford more). Cost of 1TB SSD is close to a new laptop!
But still, you'll be mending your laptop's speed at least by 10 times!!. Be it boot time, read/write, gaming, power backup, heating or overall responsiveness.
When I replaced my HDD with SSD, my 8 old laptop/desktop will feel feel so much younger.
SSD vs HDD?
My 8 years old laptop with Intel i3 2330M, processor and SSD can easily beat 2 year old laptop with Intel i5, 6th gen processor with HDD. ?
Of course, I've also attached HDD performance, clearly it'll show why you should upgrade to SSD from HDD. ?
Just look at the HUGE difference between HDD (first 2 image) and SSD performance!! ?
How to choose the Best SSD for a home use?
SSD is completely different from HDD. It is important to understand the difference before buying.
HDD is like plain empty space where you keep filling data in FIFO manner.(First In First Out).
SSD on the other hand is like a 'mini-computer' in itself. Therefore, it is not just an empty space to put data on. There are hundreds of operations that happen when writing and reading the data. There is a dedicated micro-computer/processor inside an SSD. It has it's own cache, it's own programming etc.
So, it is like having a small computer within your computer that allocates space, manages read/write operations. You even have firmware upgrades to your SSD.
That is why just "Price/GB = Value" formula won't work on SSD. ?
Every company has their way of programming their SSD.
What determines SSD performance?
There are various types of NAND operations (way to read, write and store information within SSD) like SLC, MLC, TLC, eMLC, QLC etc and this list will grow over time.
Bottom line is that right now, SLC (Single Level Cell)is most expensive but very durable and suitable for enterprise/business. QLC (Quad Level Cell) being cheapest but less durable.
Mr. John Weaver in this page has given detailed information on differences with Pros and Cons of each type of NAND operations
So, it's not just top brands like Samsung, Seagate or Crucial but you can even go for ADATA SSDs with better NAND technology. The difference between one type to other is the NAND read/write technology you just read earlier.
FINAL VERDICT:– For a considerable price difference, if you are a home user with normal gaming and storage stuffs, the best SSD to buy is Crucial MX500 SSD. It is actually of high quality and serves the purpose very well.
I have been using both Samsung 860EVO and Crucial 500MX and I haven't notice any practical difference when copying, reading, writing, gaming etc on both. Hence, I can conculde that they are identical in performance for human perception. Crucial is actually better in some aspects. ?
To summarize, if you are a regular home user, buy whichever is inexpensive in the same class of SSD. Fancy scores and numbers on papers are not going to make any practical difference!!
Easy Buying Guide to choose best SSD
NOTE:- The 'Average' in below table means it is still 10 times better than HDD. It's only in comparison with other SSDs.?
Purpose
NAND Flash Type
Cost
Performance
SSD Choice
Home, regular user
* Less intensive tasks:
Ex: MS office, email, browsing, video etc
QLC or higher
Cheap
Average
✔️
Home intensive user
* Medium Intensive tasks
Ex: Low graphics gaming, multi tasks, multiple desktops
TLC
Reasonable
Above Average
✔️
Home extensive user
* Very intense User
Ex: Gaming, Photo/Video Editing, Laptop on for 24X7.
MLC
Slightly Expensive
Better
✔️
Business/ Enterprise Users:
* Cost is no concern
SLC
Very Expensive
Best
(Long life)
✔️
What to know before you buy the best SSD that fits your needs?
The firmware(software) on your SSD should be updated and latest. – It is a tiny computer remember?
You can download Crucial SSD Executive tool for authentication, future firmware upgrade etc. Similarly Samsung has Magician Software
If you buy 500GB but only get about 465GB usable. Well, this is the case with all memory devices and the 7% loss actually helps for random file operations.
There are ways to further optimize SSD using manufacturer's software but mostly you'll lose more space.
Now that you know so much about SSD will you make the choice? ?
Additionally, here is a detailed comparison of Samsung 860EVO vs CrucialMX500